Our nursery school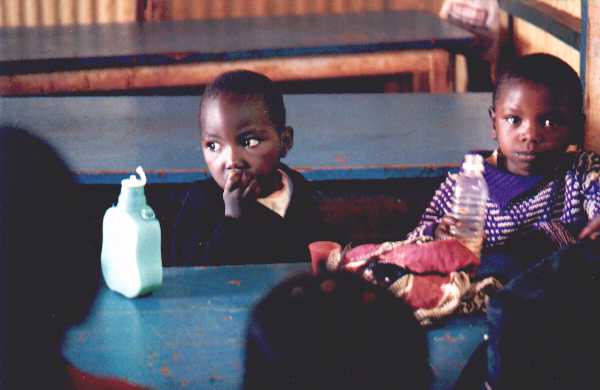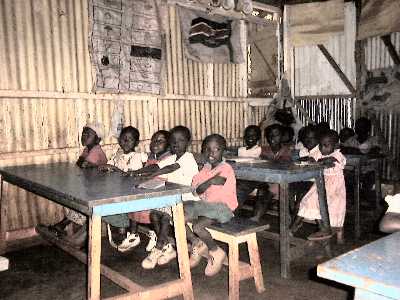 The nursery school, as you can see, is made from corrugated plastik walls.
It contains two classrooms. Before the rebuilding, there was no concrete floor,
but only the bare ground. Two years ago the nursery was rebuilt with funds from the Swedish Development Cooperation.
The work was done by members of Matumaini Youth Group.
Now there is a concrete floor which stays dry when it rains, and also outside there are two pit latrines.

Our two teachers Beatrice and Gladys get their small salaries from Kenafric Charitable Organisation.
But there is no money to buy books or copy books or even some crayons and paper for drawing and painting.
Our teachers painted the letters of the alphabet on paper plates and used potatoe sacks for some simple displays.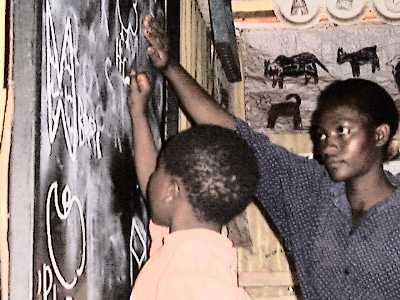 Apart from this we have just the blackboard to learn writing and reading.

Shouting in chorus we repeat what teacher says:
"B - O - X: BOX! B - O - X: BOX! T - R - E - E: TREE! T - R - E - E: TREE!"
Bah, bah, blacksheep, have you any wool?
Yes, Sir, yes, Sir, three bags full....

I am letter A, I have come to dance.
Dancing a little, and then I run away...